Welcome to The Canadian Indigenous Mental Health and Wholistic Wellness Conference
Presented by Martin Brokenleg, Ed.D., Sandi Boucher, Denise Findlay, Michael DeMolina, Ph.D, & Cynthia Wesley-Esquimaux, Ph.D.
This online course will be streaming live on December 8, 2021 from 8:15am – 4:00pm PT, 10:15am – 6:00pm CT, 11:15am – 7:00pm ET after purchase.
Breaks
9:30am – 9:40am Pacific time, 11:30am – 11:40am Central Time, 12:30pm – 12:40pm Eastern Time
10:40am – 10:50am Pacific time, 12:40pm – 12:50pm Central Time, 1:40pm – 1:50pm Eastern Time
11:50am – 12:40pm Pacific time, 1:50pm – 2:40pm Central Time, 2:50pm – 3:40pm Eastern Time
1:40pm – 1:50pm Pacific time, 3:40pm – 3:50pm Central Time, 4:40pm – 4:50pm Eastern Time
2:50pm – 3:00pm Pacific time, 4:50pm – 5:00pm Central Time, 5:50pm – 6:00pm Eastern Time
Recored footage and all course content (certificate, videos, quiz) will be available until January 10, 2022. Extensions cannot be granted under any circumstances.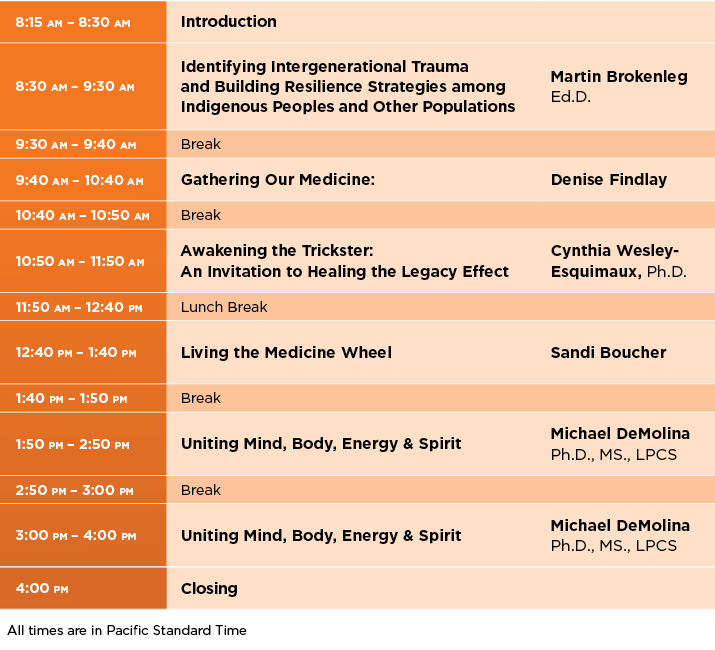 The live stream will be held here on December 8, 2021