Description
This online course was live streamed on May 19, 2021.
Recorded footage and all course content (certificate, videos, quiz) will be available until June 18, 2021. Extensions cannot be granted under any circumstances. 
Registration will close on June 11, 2021. 
We are pleased to announce The Virtual Trauma & Addictions Conference: Helping Individuals Heal & Recover airing online May 19, 2021. We have introduced our lowest rate ever, to make this conference accessible to all audiences including professionals and the general public. Continuing education credits and an online certificate will be available for the those who qualify under the professional rate. This virtual conference will feature new interactive learning tools including digital handouts, polls and a live Q&A with the presenters. Join Gabor Maté MD, Martin Brokenleg Ed.D., Stanton Peele, Ph.D., Eboni Webb, Psy.D., and Darryl S. Inaba, Pharm.D for this special event.
---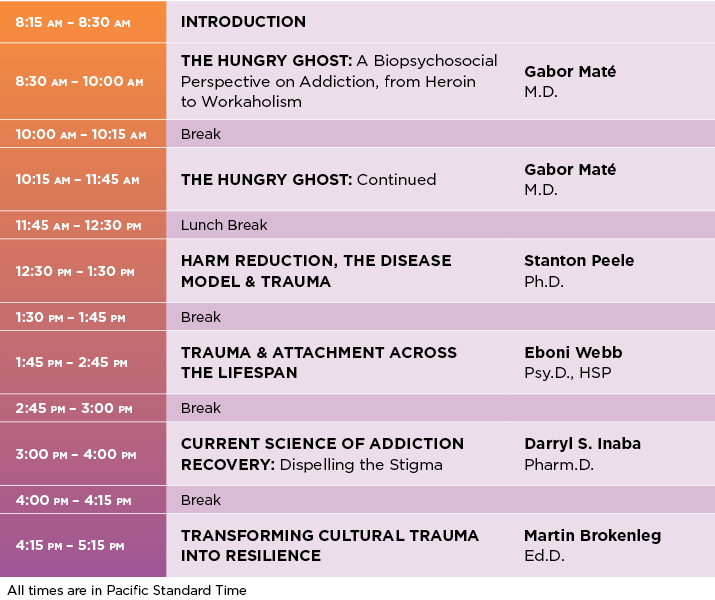 ---
The Hungry Ghost: A Biopsychosocial Perspective on Addiction, from Heroin to Workaholism continued presented by Gabor Maté, M.D.
For twelve years Dr. Maté was the staff physician at a clinic for drug-addicted people in Vancouver's Downtown Eastside, where he worked with patients challenged by hard-core drug addiction, mental illness and HIV, including at Vancouver Supervised Injection Site. In his most recent bestselling book In The Realm of Hungry Ghosts, he shows that their addictions do not represent a discrete set of medical disorders; rather, they merely reflect the extreme end of a continuum of addiction, mostly hidden, that runs throughout our society. In The Realm Of Hungry Ghosts draws on cutting-edge science to illuminate where and how addictions originate and what they have in common.
Contrary to what is often claimed, the source of addictions is not to be found in genes, but in the early childhood environment where the neurobiology of the brain's reward pathways develops and where the emotional patterns that lead to addiction are wired into the unconscious. Stress, both then and later in life, creates the predisposition for addictions, whether to drugs, alcohol, nicotine, or to behavioural addictions such as shopping or sex.
Helping the addicted individual requires that we appreciate the function of the addiction in his or her life. More than a disease, the addiction is a response to a distressing life history and life situation. Once we recognize the roots of addiction and the lack it strives (in vain) to fill, we can develop a compassionate approach toward the addict, one that stands the best chance of restoring him or her to wholeness and health.
---
Harm Reduction, The Disease Model and Trauma presented by Stanton Peele, Ph.D.
Harm Reduction — which recognizes and builds on the fluidity of humans and their ability to change — is the opposite of the disease theory. And while significant cracks have begun to appear in the disease theory's dominance in North America, remarkably, harm reduction thinking often accepts fundamental disease theory conceptions — primarily that addiction occurs simply as a result of exposure to opioids, is NOT impacted by social setting, and is irreversible. Dr. Peele deploys data, common sense, and the audience's personal experience to show how wrong-headed — and dangerous — this disease theory residue is, while he presents an alternative way of thinking and treatment. Trauma theory is discussed in this regard.
---
Trauma and Attachment Across the Lifespan presented by Eboni Webb, Psy.D., HSP
Working with emotionally-dysregulated and traumatized children and teens in your practice can be overwhelming and exhausting. You probably feel the pull of being the "saviour" for dysregulated children and their worried parents. Learn how to develop the skills needed to be more effective in treatment, avoid burnout and achieve positive outcomes through developing an integrative lens to more effectively treat trauma and attachment across the lifespan. Dr. Webb will give you the training you need through case stories, neuroscience research, and experiential activities. Learn to work together with children and support systems to increase compassion through seeing the function of their behaviours through the lens of trauma, reestablish structure, and create a validating environment. Leave with the knowledge and skills to confidently teach parents and care providers how to implement a safe structure that enables the child to learn and master these skills throughout all the pertinent areas of their lives.
---
Current Science of Addiction Recovery: Dispelling the Stigma presented by Darryl S. Inaba, Pharm.D.
Brain imaging and other more recent research tools continue to discover variances in neuro-cellular, neuro-chemical, and neuro-functioning that underlie a vulnerability to develop substance-related and other addictive disorders. The brain anomalies associated with addictive disorders provide an understanding of the differences between the wide variety of drugs and behavioural compulsions. They also help to explain why some are more likely than others to relapse after treatment for their compulsive drug use or behaviours. The rapidly expanding field of Addiction Medicine provides new insights on preventing, assessing and treatment of addictions and related disorders. It is also providing more evidenced-based resources to better manage those struggling with these major mental health disorders. This presentation will explore the evolving science of Addiction and Recovery to dispel the undue stigma associated with Substance Related and Addictive Disorders. It will also offer an introduction to the new resources in development to treat these disorder and the evolving medical specialty of addiction medicine.
---
Transforming Cultural Trauma into Resilience presented by Martin Brokenleg, Ed.D.
Indigenous North Americans have experienced trauma as have many other populations around the world. Intergenerational Trauma is caused by experiences of war, residential schools, slavery, and social oppression. Trauma is cumulative and required a clear understanding of its symptoms to be identified and cured. Courts and social services increasingly identify and consider the impact of trauma on clients. This one-hour session explores intergenerational trauma, identifies its major symptoms, and examines some healing strategies.