Description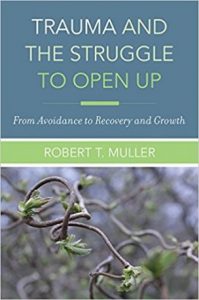 This On Demand course and will be available after purchase. Participants can watch, pause, and re-watch the sessions at their convenience.
All course content (certificate, videos) will be available until May 1, 2021. Extensions cannot be granted under any circumstances. 
Registration will close on April 1, 2021. 
SPECIAL OFFER Participants who register for this course are eligible to receive a FREE copy of Dr. Muller's newest book, Trauma and the Struggle to Open Up. Retail value is $49.00.
To redeem your FREE book please email your shipping address and order number to webinars@jackhirose.com once your registration has been processed. Please allow up to two weeks for shipping (additional delays may occur due to COVID-19). Free books are not eligible for refund or exchange. Offer eligible for shipping to Canadian addresses only. *Offer valid while supplies last.
---

This practical workshop, led by Dr. Robert T. Muller, a leading expert on trauma therapy and globally-acclaimed author of the psychotherapy bestsellers: Trauma & the Avoidant Client + Trauma and the Struggle to Open Up–is aimed at building your understanding of the psychotherapeutic relationship with challenging clients, particularly trauma clients. All clients present with some degree of traumatic affect, making this workshop suitable for all practitioners.
While many of us try to maintain a good therapeutic relationship, this can be difficult. Trauma clients struggle to trust the therapist; many minimize their own traumatic experiences, or become help-rejecting. Others rush into the work, seeking a "quick fix," despite a long history of interpersonal trauma.
Through the lens of attachment theory, using a relational, integrative approach, Dr. Muller follows the ups and downs of the therapy relationship with trauma survivors. How do we tell when we've unknowingly compromised safety in the relationship? What happens to the relationship when clients or therapists rush into the process, and how can this be addressed? And how can subtle conflicts in the relationship become useful in treatment? Dr. Muller points to the different choices therapists make in navigating the relationship. In trauma therapy, those choices have a strong impact on outcome.
Recovering from trauma is a complicated process. When people reveal too much, too soon, they may feel worse. The pacing of therapy is critical. Here too, the key is in the therapist-client relationship. Dr. Muller walks you through the relational approaches that help pace the process of opening up – so that people find the experience helpful, not harmful.
Throughout the workshop, theory is complemented by case examples, practical exercises, and segments from Dr. Muller's own treatment sessions. This workshop focuses on clinical skills that are directly applicable in your work as therapists. You will learn specific skills to ensure ethical practice with all clients.
---
Online Course Format
Live Stream
12 CEUs
12 Hours of content
---